Tap A Zip Code To See The Latest Listings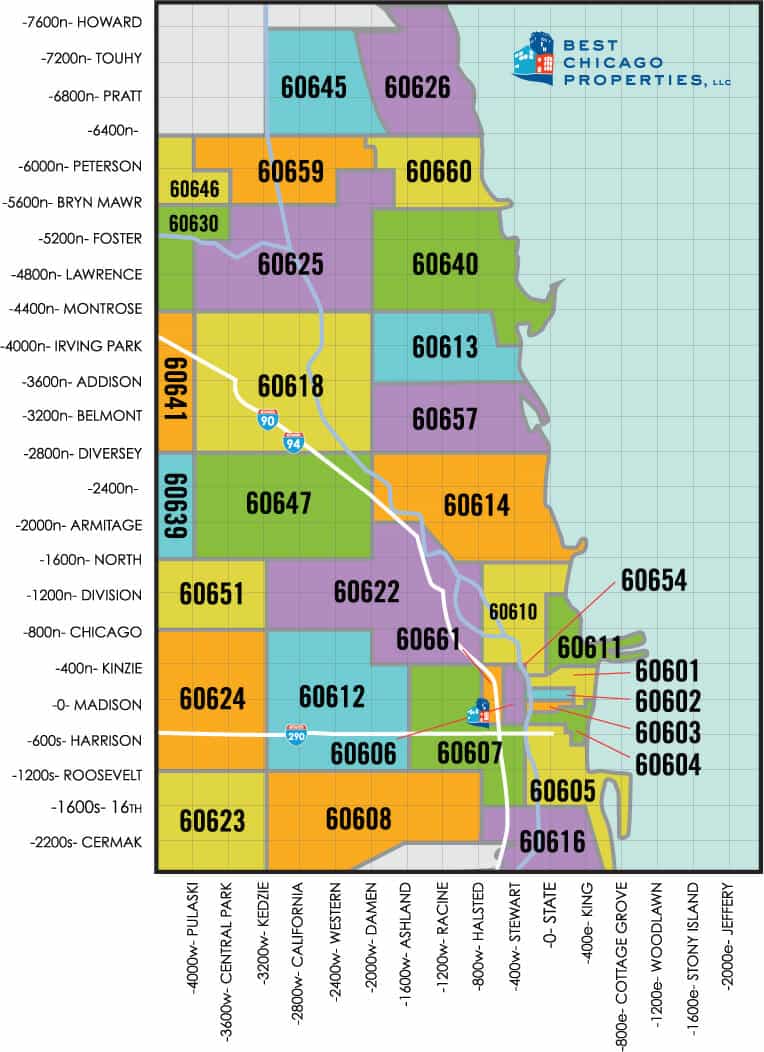 Find Chicago Real Estate For Sale By Zip Code
Our Chicago real estate zip code map search give you three ways to find Chicago real estate by zip code.
1. We give you handy map where you can simply tap on the Chicago zip code map and see all the real estate listings for sale in that zip code area.
Perfect if you already know the zip codes for the general areas where you want to search. Maybe you want to search for a home in the same zip code where you work, if so this Chicago zip code map search is perfect.
2. We list Chicago neighborhoods that Best Chicago Properties serves along with their corresponding zip codes.
This is helpful if you know the neighborhood name but need to find the Chicago zip code for the neighborhood.
3. We list Chicago zip codes in numerical order along with their corresponding neighborhoods.
This is what you need when you know the zip code and need to find out the name of the corresponding Chicago neighborhoods.
The Chicago Real Estate Zip Code Map Search feature is a great tool for finding Chicago homes, condos, lofts and townhouses for sale by zip code. If you already know the name of the neighborhood where you want to live, try the Chicago Neighborhood Guide. And of course please feel free to contact us if we can assist you in your search or answer any questions you have about the various Chicago neighborhoods and their corresponding zip codes.
Here is a list of Chicago Neighborhoods and their Zip Codes to find Chicago real estate for sale by zip code.
Albany Park – 60625

Andersonville – 60640

Austin – 60639
Avondale – 60618

Bucktown – 60614, 60622, 60647

Budlong Woods – 60625

Chinatown – 60616

Dearborn Park – 60605

DePaul – 60614

East Chicago – 60617

East Garfield Park – 60612,  60624

East Rogers Park – 60626
East Village – 60622

Forest Glen – 60630

Fulton River District – 60606, 60610, 60622, 60661

Graceland West – 60613
Hollywood Park – 60659

Homan Square – 60624

Humbolt Park – 60622, 60647, 60651
Industrial Corridor – 60610, 60614, 60618, 60622, 60647

Irving Park – 60618

Jefferson Park – 60630

Jeffery Manor – 60617

Kelvyn Park – 60641

Kilbourn Park – 60641

Lakeview – 60613, 60618, 60657

Lakewood Balmoral – 60640

Lawndale – 60608, 60612, 60623, 60624

Lincoln Square – 60625

Margate Park – 60640

Mayfair – 60630

McKinley Park – 60608

Medical District – 60608, 60612

New East Side – 60601

Near North – 60610

Near South Side – 60616

Noble Square – 60622

North Park – 60625

Old Irving Park – 60641

Old Town – 60610

Old Town Triangle – 60614

Peterson Park – 60659

Peterson Woods – 60659

Pill Hill – 60617

Pilsen – 60608

Portage Park – 60641

Prairie District – 60616

Printer's Row – 60605
Ravenswood – 60613, 60625, 60640

Ravenswood Gardens – 60625

Ravenswood Manor – 60625

Sauganash – 60626, 60630, 60646
Sheridan Park – 60640

South Chicago – 60617

South Deering – 60617
South Loop – 60605, 60607, 60608, 60616

St. Ben's – 60618

Stoney Island Park – 60617

Streeterville – 60611

The Gap – 60616

The Loop: 60601, 60602, 60603, 60604, 60605, 60606, 60607, 60661

Tri Taylor – 60612

Ukrainian Village – 60612, 60622

United Center Park – 60612, 60622

University Village / Little Italy – 60607

Uptown – 60640

West Garfield Park – 60624

West Rogers Park – 60645, 60659, 60660

Wicker Park – 60622

Wrigleyville – 60613
List of Chicago Zip Codes and their Neighborhoods
60601 – New East Side and The Loop
60602 – The Loop
60603 – The Loop
60604 – The Loop
60605 – Dearborn Park, Printer's Row, South Loop and The Loop
60606 – Fulton River District and The Loop
60607 – South Loop, The Loop, University Village / Little Italy, West Loop
60608 – Douglas Park, Lawndale, McKinley Park, Medical District, Pilsen, South Loop and University Village / Little Italy
60610 – Fulton River District, Gold Coast, Goose Island, Industrial Corridor, Lincoln Park, Near North, Old Town and River West
60611 – Gold Coast, River North and Streeterville
60612 – East Garfield Park, Lawndale, Medical District, Tri Taylor, Ukrainian Village and United Center Park
60613 – Boystown, Buena Park, Graceland West, Lakeview East, North Center, Ravenswood and Wrigleyville
60614 – Bucktown, DePaul, Lathrop, Lincoln Park, Industrial Corridor and  Old Town Triangle
60616 – Chinatown, Douglas, Pilsen, Prairie District, South Loop and The Gap
60617 – East Chicago, Jeffery Manor, Pill Hill and South Chicago, South Deering and Stoney Island Park
60618 – Avondale, Industrial Corridor, Irving Park, Logan Square, North Center, Roscoe Village, St. Ben's, and West Lakeview
60622 – Bucktown, East Village, Fulton River District, Goose Island, Humboldt Park, Industrial Corridor, Noble Square, River West, Ukrainian Village, United Center Park and Wicker Park
60623 – Little Village and Lawndale
60624 – East Garfield Park, Homan Square, Lawndale and West Garfield Park
60625 – Albany Park, Bowmanville, Budlong Woods, Lincoln Square, North Mayfair, North Park, Ravenswood, Ravenswood Gardens and Ravenswood Manor
60626 – East Rogers Park and Sauganash
60630 – Forest Glen, Jefferson Park, Mayfair, North Mayfair and Sauganash
60639 – Austin, Hermosa
60640 – Andersonville, Bowmanville, Buena Park, Edgewater, Lakewood Balmoral, Margate Park, Ravenswood, Sheridan Park and Uptown
60641 – Kelvyn Park, Kilbourn Park, Montclare, Old Irving Park and Portage Park
60642 – Goose Island, River West
60645 – West Rogers Park
60646 – Edgebrook, Sauganash
60647 – Bucktown, Humboldt Park, Industrial Corridor, Lathrop and Logan Square
60651 – North Austin, Humboldt Park
60654 – River North
60657 – Boystown, Lakeview East, Roscoe Village and West Lakeview
60659 – Hollywood Park, Peterson Park, Peterson Woods and West Rogers Park
60660 – Edgewater and West Rogers Park
60661 – Fulton River District, the Loop and the West Loop