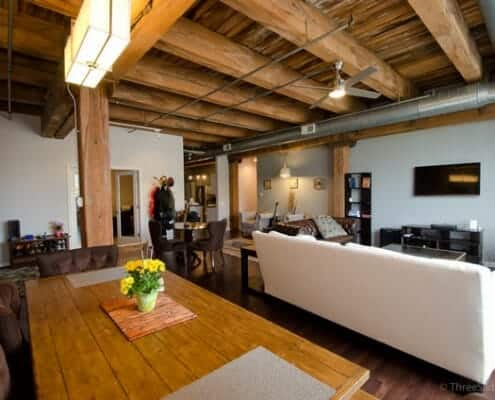 We Love Loft Living!
If you do too, you're in the right place – here you'll find the latest Chicago lofts for sale plus valuable information on how to buy a Chicago loft.
Find all types of Chicago loft conversions: artist, brick & timber, concrete, historic, industrial, raw spaces and vintage lofts. This is an excellent source of information to prepare you to buy a Chicago loft.
And we show you exactly what to look for in a Chicago loft. Plus the best loft neighborhoods and expert advice on buying or selling your loft.
What To Look For In A Chicago Loft
Best Chicago Neighborhoods For Lofts
The Latest Chicago Lofts For Sale
What To Look For When Buying A Chicago Loft
Let's face it, some lofts are just far better than others.
Before you buy a Chicago loft, it's important to delve into the factors that make the space work with your needs.
For example, location, ceiling height, natural light, noise and the exterior condition of the building.
Let's take a look at each of these factors in more detail.
Great Location
As with all real estate, location is the first consideration.
A building with a great location that works for you is of course paramount.
Public transportation, highway access, parking, restaurants and shops, parks and safety are a few important considerations.
But the importance of location doesn't stop at the doorstep.
It's important to also look at location within the building. Is it close to an elevator? A mile walk to the lobby? Where is your parking spot in relation to the unit? Day-to-day, this kind of stuff really matters.
Solid Building
The physical condition of the loft building itself is often overlooked but in fact is just as critical or even more so than the condition of the unit itself.
Older loft conversions can be high maintenance. You'll of course want to be aware of any special assessments and building issues early in the process.
Don't waste time looking at loft units in problematic buildings. Work with an agent that knows the neighborhood and the loft buildings well.
The financial health of the association is just as important as the condition of the building.
Make sure to review the association's financial statement, declaration, bylaws and minutes of the board before you buy.
Windows, Light, View
Many of Chicago's old warehouses were built on an entire city block.
For this reason, they are often big and square. And as a result, often Chicago loft conversion units are long and narrow stretching out to just one set of windows at the end. Thus creating a dark and dreary feeling. Especially in winter. No thanks!
For this reason, end units with windows on two sides are what you want. This brings you more light for those long Chicago winters.
Plus, look for "protected" view corridors. Those overlooking a park, canal, or facing down a street, where new construction will have a minimal impact.
And a nice view is always a bonus. That said, don't pay more for a it as in Chicago views can quickly disappear with new construction!
Potential For Improvement
Finally, it's always good to buy a loft that has some room for improvement.
Our client that bought the huge two bedroom West Loop loft pictured at the top of this article was able to utilize extra living space to create a third bedroom.
Thus netting him a $100k profit when he sold just two years later!
Best Chicago Neighborhoods For Lofts
The neighborhoods we serve with the most lofts for sale are the West Loop, Fulton Market, South Loop, Printer's Row and River North.
There are of course others but these are former industrial areas and thus there are many interesting old buildings that are now Chicago loft conversions.
Expert Loft Advice
It's also important to work with a knowledgeable broker. After over a dozen years helping clients buy Chicago lofts, we know how to help you avoid pitfalls and make the right choice.
Talk With Us When You're Ready To Buy A Chicago Loft