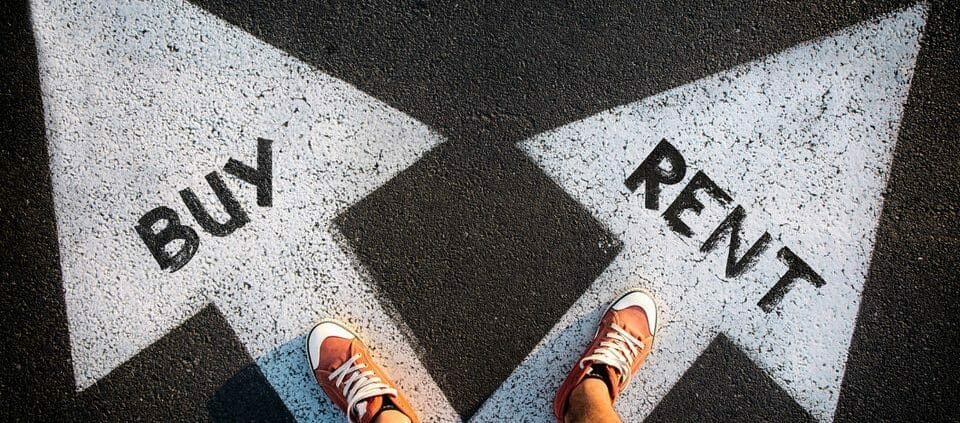 Should I Buy Or Rent In Chicago?
What are the best reasons to buy rather than rent in Chicago? What are the pros and cons of buying vs renting in Chicago? Should I buy or rent in Chicago? No matter how you ask, all the considerations and complexities can often create dilemma.
In earlier days answering these questions was easy
Buy as soon as you can afford to do so. In recent years it's not that simple. Our mobile and ever changing society have presented many more variables and uncertainties to consider.
Baby Boomers and GenXers grew up in a time where owning a home was the cornerstone of the American dream. There was no question that owning was the way to go.
But Millennials until recently have not bought into that dream. They didn't want to be tied down. Nor have the commitment and / or responsibility of owning. And as such, the question "should I buy or rent in Chicago" was never really in play. Millennials tended to rent. That's been changing.
Millennial buyers are out in force
In the past year or so we've seen many more Millennials buying real estate in Chicago. Seems the Millennial generation has finally decided it's time to buy. They are indeed out in force. So much so that in Downtown Chicago, the West Loop and South Loop, real estate brokers complain that there's just not enough inventory. For more about millennials buying condos in Chicago check out this article in the Chicago Tribune entitled Millennials Buying Condos In Chicago.
To consider the pros and cons of buying vs renting in Chicago, below you'll find some fast and easy tools to help you evaluate your options.
That said, we think now is a really good time to buy if you possibly can.
Here are five reasons to buy rather than rent in Chicago:
1. A valuable hedge against inflation
Rents tend to go up. And over the past few years they have done so rapidly in Chicago. Renters are often at the mercy of the market and their landlord. Of course increased rent expenses come directly out of the tenant's pocket. A 3% yearly increase can add up. For example, $2000 a month rent bumps up to $3100 in 15 years. Owners however can lock in a low mortgage right now and enjoy the security of knowing what their payments will be far into the future. Learn more about buying a home with our Chicago Home Buyer's Guide.
2. Forced savings translates into a good investment over time
Over the years, home ownership has been a pretty good investment for most people. Clearly it's not without substantial risk as we know from the 2008 real estate crash. But bubble aside, the value is evident. Plus home buyers buy on a huge margin, in some cases with just 3% to 5% down. That's a deal not found in other investment venues like the stock market. Consider using the free advice of a buyer's broker. Read why in our article Use A Buyer's Broker To Buy Real Estate In Chicago.
3. Equity, equity, equity!
Of course part of the monthly mortgage payment goes toward paying down the principal of the loan. Owners receive part of their investment back when they sell their home. Or all of it if they sell after the home loan is paid off. Compare that to rent which is a 100% expense. Money gone.
4. Buy or rent in Chicago – don't forget about the tax breaks of buying
Tax pros agree that for most people the new tax plan will cut the tax benefits of owning your own home. Especially in expensive areas of states like New York. However, the incentives for most home buyers in Chicago remain valuable. Mortgage interest and property taxes continue to be tax deductible for many Chicago buyers. Rent is of course not deductible.
In the long run, home owners can still make money on their home sale. And, much of the profit can still be without tax. The home must be your primary residence and the tax free profits are limited but at this point it's still a strong incentive. For more detail read The Tax Cuts And Jobs Act And What It Means For Homeowners And Real Estate Professionals by the National Association of Realtors®.
5. One of the very best reasons to buy rather than rent in Chicago is freedom!
Don't like the kitchen style? Owners are of course free to renovate, renters just have to live with it. There is a special feeling that comes with owning your own home. And it really does come down to being free. Americans like freedom and individuality and owning gives us what we like. So if you're asking should I buy or rent in Chicago, don't forget to factor in the feelings of freedom that often come with owning.
Conclusion: There are plenty of reasons to buy rather than rent in Chicago
There are plenty of really good reasons to buy rather than rent in Chicago. Crunch the numbers and prove it to yourself. You can quickly weight the value of buying vs. renting in Chicago by using the very cool buy / rent calculator over at the New York Times.
Ready to explore buying?
Of course there are some roadblocks to buying. Some of the most common reasons we hear for renting and not buying is that people think they cannot get a mortgage or that they do not have enough of a down payment. Here are the top 4 questions to ask when buying a Chicago condo.
There are some government programs that assist people who have as little as 3% down payments. In some case government programs will even help with the down payment. Particularly veterans. Find out what you can afford with our fast and easy mortgage calculator. Or if you're ready to buy, go ahead and get pre-approved for a Chicago mortgage.
Your best bet is to sit down with a real estate professional and let them help you see all your options. They will also put you in touch with a mortgage broker who will help you get pre-approved for a loan. Even if you think you cannot get a loan you may be surprised by what a mortgage broker can do for you. This is really the first step in the Chicago home buying process.
If you're leaning toward buying and want to see what's out there, here you can browse the latest Chicago listings.
If renting is for you, explore current Downtown Chicago condos for rent.
Thanks for reading! We hope this has helped you evaluate the pros and cons of buying vs renting in Chicago. If you're interested in learning more just contact us. We'd be happy to talk with you.
https://www.bestchicagoproperties.com/wp-content/uploads/2017/04/reasons-to-buy-rather-than-rent-in-Chicago-pros-and-cons-of-buying-vs-renting-in-Chicago-buy-or-rent-in-chicago-1.jpg
640
960
Best Chicago Properties
https://www.bestchicagoproperties.com/wp-content/uploads/2012/03/logo.png
Best Chicago Properties
2018-03-12 02:48:03
2018-11-12 08:23:04
Five Reasons To Buy Rather Than Rent In Chicago