Click or tap a neighborhood to see listings.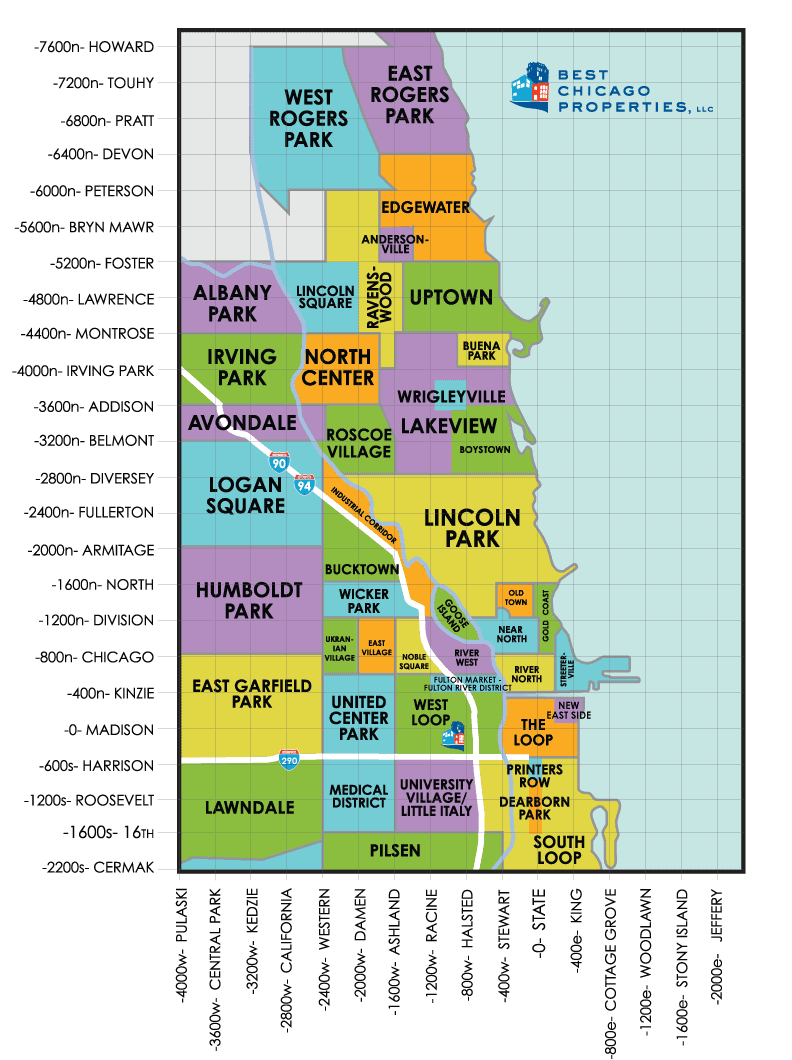 Chicago Neighborhood Guide
Looking to visualize the location of a Chicago neighborhood? Are you relocating to Chicago and interested in learning more about the various Chicago neighborhoods? Or maybe you just want a super easy way to see the latest Chicago real estate listings for sale in each neighborhood.
Which ever of these questions you have, you'll find answers by using the Best Chicago Properties Chicago Neighborhood Guide.
See how Chicago neighborhoods fit together and simply click or tap on a neighborhood and immediately see all the latest Chicago real estate listings for sale and for rent and info about what it's like to live in each Chicago neighborhood.
Everything you need to decide where to buy or rent in Chicago.
The Chicago Neighborhood Guide is an awesome interactive real estate search map of Chicago's in town neighborhoods. Best Chicago Properties makes it amazingly easy for those looking to learn about Chicago neighborhoods and which might be right for them with this interactive home search map of Chicago. Each of the 45 neighborhoods featured offers a clear description of the neighborhood including a neighborhood overview, real estate listings for sale and for rent, market stats and this weekend's open houses.
From Andersonville, to Lakeview to Lincoln Park to the South Loop, the Best Chicago Properties interactive real estate map search provides you as a condo, loft, townhouse or single family home buyer a comprehensive list of all MLS listings which is a fantastic resource helping you visualize everything needed to find the property that meets and exceeds your needs.
For example:
Say you're interested in learning about Chicago's West Loop neighborhood. Just click on the West Loop and the map quickly zeros in on the West Loop area, shows you the first listing and tells you there are 170 or so condos, lofts and townhouses currently for sale in the West Loop. Here's where you'll see that great overview of the neighborhood's features. Our goal is to actually help you feel the vibe of the neighborhood, not just see photos of the condos and lofts.
Want to see all the West Loop properties for sale and for rent on a map?
That's easy; using the Chicago Neighborhood Guide just click "See more West Loop Properties" and you'll see a collection of properties that meet the criteria displayed in the drop down box. Change the criteria to sort the Chicago MLS property results in any way you'd like.
With the Best Chicago Properties Map Search you can easily sort the map search results by the following criteria:
Time on market, newest first (default position)
Time on market, oldest first
Price, highest first (default position)
Price, lowest first
Price drop %, largest first
Walk Score, highest first
Improved size
Lot size
You can also save your searches and mark their favorite listings for future viewing.  You can even email favorite property listings to family and friends.
We take pride in the technology we offer you our clients via our Chicago Neighborhood Guide.
Please use these tools and then Contact us when you're ready to go look at properties!